The RESCAP-MED Project
RESCAP-MED is a three year (2012-2014) EU funded project that builds research capacity for public health in countries around the eastern and southern Mediterranean. The purpose of the project is to develop research skills in these countries to address the challenge of non-communicable diseases and their social determinants: specifically the skills needed to address the burden of cardiovascular diseases, diabetes, and cancer.
The RESCAP-MED team includes eleven project partners in nine countries:
Newcastle University, UK

University of Liverpool, UK

St Georges, University of London, UK


Trinity College Dublin, Ireland
Dokuz Eylul University, Izmir, Turkey
Syrian Center for Tobacco Studies, Aleppo, Syria
Birzeit University, West Bank, Palestine
Faculté de Médecine de Tunis, Tunisia
Jordan University of Science and Technology, Irbid, Jordan
American University of Beirut, Lebanon
WHO-EMRO, Cairo, Egypt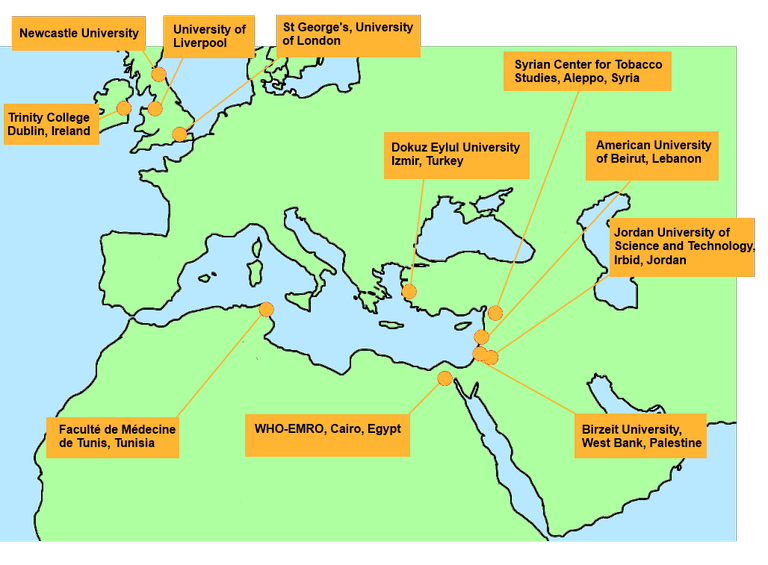 The main purpose of RESCAP-MED is to enhance the non-communicable diseases (NCDs) research landscape in southern and eastern Mediterranean countries by:
(a) Strengthening capacity in a set of disciplines most relevant to improving public health and reducing health inequalities
(b) Enhancing networking, cooperation, and collaboration between researchers in the Mediterranean region.
This project aims to enhance and, where needed, build research capacity in the region for health, its social and environmental determinants and their complex interactions, in order to inform policy development and implementation. We concentrate on the immense challenge posed to the health systems and economies of the region by the increasing burden of NCDs. We focus on strengthening the disciplinary capacity necessary to explain the social and environmental factors causing the rise in NCDs, and necessary to identify achievable policy outcomes and interventions. We prioritise five disciplines in this action: epidemiology, health economics, environmental health, medical anthropology, and health policy evaluation. This consortium brings together 11 partners: ten academic partners and one international organisation (WHO-EMRO).
For more information please see the RESCAP-MED project website.